Theresa May has entered into the debate about "aggressive begging" in Windsor ahead of the wedding of Prince Harry and Meghan Markle.
The prime minister said she disagreed with council leader Simon Dudley, who urged police to tackle the issue before the St George's Chapel ceremony on 19 May.
The BBC visits Windsor to find out what people there think.
Video journalists: Mohamed Madi, Ameer Ahmed and Hez Holland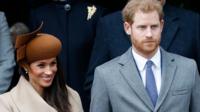 Please follow and like us, share and subscribe to Ghanabanews.com:Thanks for visiting Ghanabanews.com. Kindly like,share to reach others and subscribe for your automatic daily news update.